Deer Park Spring Water 40ct .5L Bottles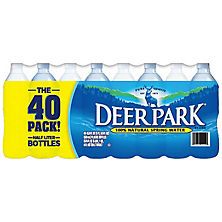 100% natural spring water bottled at the source! Deer Park is one of the top bottled water company that produces real spring water. Serve yourself and your guests what they deserve, Deer Park Water, Virginia Beach bartenders #1 choice of bottled water. Stay hydrated, stay happy.
Buy the case and carry water with you where ever you go. Never run out when entertaining guests.